Your Best Years Are Waiting
Learn how we can help protect your financial future
for you and your family.
Get started in THREE easy steps:

Using the netWorth Partners plan, we'll examine your current financial situation and determine your retirement needs.

Receive a custom strategy to help you reach your unique retirement goals.
What Our Clients Are Saying
"We've been working with Networth Partners for about four years now, preparing for and getting started on our retirement plans. Mike and Lynne have been outstanding to work with. They've provided excellent advice and services that line up well with our personal retirement financial goals without ever feeling pressure. They are knowledgeable and helpful when we have questions always breaking things down clearly. We appreciate working with them."
"We have worked with Mike and Lynne for over 15 years and rely on them for every financial decision. It is because of their guidance that we now can enjoy our financial growth and Independence. They have always had the ability to anticipate our needs and proactively position our portfolio. We have always been impressed by their knowledge of the current market trends and tax laws affecting future growth. In particular, we will always be grateful for their help and guidance during a particularly difficult time which involved an accident. Mike and Lynne visited to reassure us that we would be all right financially so that we could relax and focus on care and recovery. Our only regret is that we didn't start working with them earlier in our lives."
"We have worked with netWorth Partners for many years and they are a wonderful team. We have referred friends and family and they have been very grateful for the referral. The team at netWorth Partners are professional, courteous, patient and work with you to ensure that your monies and investments are working the best for your future goals. Highly recommend this wonderful team!"
"NetWorth Partners was recommended to us by family members. We feel very comfortable with Mike and Lynne and have the utmost confidence in them handling our finances, with our best interest at heart. So much so, that we have also, highly recommended them to family and friends, who have become clients."
"If you're looking for financial advisors, Mike and Lynn are knowledgeable and know the ins and out for your financial future. Glad I got recommended to them."
Wondering How to Create Income in Retirement?
Do you believe these 5 annuity myths?
In this guide, we address common misconceptions about annuities to help you decide if an annuity might be right for you, including:
Annuities make accessing money impossible.
Annuities are too complicated to understand.
Savings are enough - why an annuity?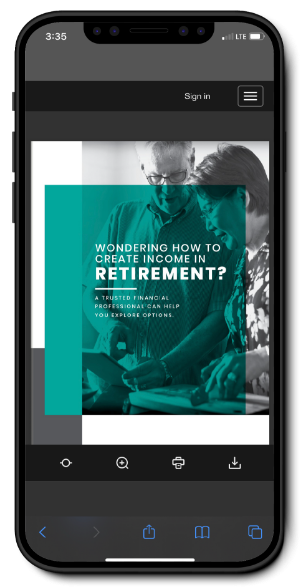 What does your retirement income
Look Like?

Check back soon for upcoming educational events.
Check back soon for upcoming educational events.